Week 53: Looking Back on 2010
By: Dani
Tags: 2010, 52, a new take on the old self portrait, Challenge, conclusion, dani photography, mouser, photography, Portrait, Self Portrait, year

Category: Photography
Well, this is it.
My project, A New Take on the Old Self Portrait, has come to an end after 52 adventure-filled weeks.

One year ago today, I challenged myself to take a new and unique self portrait each week of 2010. The challenge was set forth for a few reasons.
To push myself further as a photographer, learning new styles and experimenting with new techniques.
To push myself as an artist, coming up with 52 different ways to portray the exact same subject.
And also to help myself get comfortable in front of the camera; to better understand what my subject feel like when they come face to face with my camera lens.
I can't believe it, but here it is, one year later. Some weeks almost didn't happen. Some weeks I almost gave up. Some weeks were a real challenge to make the deadline. Some weeks I was down to the wire coming up with a new idea, or learning the new technique. But one thing remained a constant,
every single week:
I learned something new.
Really!
I could go through, each image, one at a time, and tell you what I learned that week! I won't bore you with all the details, but I would like to hit a few of the highlights.
Week 5: Blue Sky
This image was a test of patience. I needed an image this week, not only for my personal challenge, but also for a school project. All week, I had been waiting for the sun to come out. Just once! I had a clear image in my head, and it just would not be the same with grey overcast blah boring sky. Finally, the day before the image was due for school, and the day before the image would be needed for my blog, the sun decided to make a stunning appearance through the clouds! It lasted all of fifteen minutes, but I managed to capture it. This week, I used my small speedlights in combination with sunlight for the first time. I learned that I love dynamic lighting, and took the first step in learning to light.
Week 7: Kickin' It Old School
This image was a test of making something out of nothing. It was the first image during the year (but not the last) that didn't show my face in the self portrait, but, still tells a story about who I am. I was running short on ideas this week.. until I came across my favorite oldest most ripped up pair of converse. To make it interesting, and show off the multiple textures playing throughout the image, I used an HDR technique. HDR is a pretty controversial topic when it comes to some photographers. In my opinion, it is a tool, like many photographic tools, that is best used in moderation, and at just the right times. This was one of those times. I learned to hold very still, while hitting the shutter nine times. I've sold two prints of this image.
Week 10: Down the Rabbit Hole
This image came to me in a dream. Weird, I know. I had seen Tim Burton's new Alice in Wonderland movie the night before, and dreamed up this silly little image. That morning, I literally sprung out of bed and spent the whole morning and afternoon crafting the image. I don't think I stopped once until I was complete. One of my top favorites of the whole year, this image inspired my "As Yet Untitled" Wonderland series, which can be seen here. I learned to follow an idea, no matter where the inspiration came from. And that composites are amazing, especially when composited less than the viewer might think! I've sold one large print of this image.
Week 14: Shadow of a Doubt
This image was a test of speed! While attending a Salem Strobist meetup, some of the guys said they recognized me from the self portraits I'd been posting. Towards the end of the day, Jeff them suggested I do my weekly image right then. I thought about it and said… okay! I composed my image, zipped up my hoodie, and got to work. Heather helped me by holding the flash low towards the puddle, creating that awesome shadow. I learned that spontaneity is a great tool.
Week 28: Christmas in July
This image was a test in balance. I learned, on one hand, the simplest of things can make a very interesting photograph. The reflections in the eye are made from a strand of Christmas lights. The lights creating the bokeh in the background are from the same strand of Christmas lights. On the other hand, I learned that adding texture to images can take it from good to great. The minute I layered texture over this image, I was hooked!
Week 34: Remembering Rosie
This image taught me that posing is hard! I don't want to remember how many shots it took to contort myself into this pose, but let me tell you, it's much harder than it looks! Of the handful of homages I completed over the year, this was the only one that needed to be spot-on. And my arms just aren't as long as Rosie's, haha! Fortunately, I also learned that the "liquify" tool is an amazing secret weapon. With great power comes great responsibility. I used it to distort my face to be more like Rosie's, with full lips and expressive eyebrows.
Week 39: I don't Wanna Grow Up
This image was a test of will. With a very specific image in mind, Abe and I lugged all of my equipment down to the creek, only to realize the sun wasn't shining through the trees anymore. Once I got set up, it took forever just to get the duckie to stand up in the water. He wanted to float upside down! It was a frustrating week getting everything how I wanted it to look. I ended up doing a lot of post-process practice this week, and learned new ways to edit my photos. I learned to never give up. I also learned that rubber boots don't have traction on mossy river rocks!
Was all the work worth it?
Definitely.
I wouldn't trade this experience for anything. It is exactly that: experience. I took ideas and concepts that I had only read about in books, and figured out how to create them. To me, hands-on experience is priceless. I have given myself tools and knowledge that I will be able to use in my future photography endeavors.
Will I ever do a 52-week challenge again?
Probably not, haha.
Not because of the work involved, but because of the deadlines. There were a few times over the course of the year that my project interfered with my time needed for other things. I work 32 hours a week at a graphic design studio, and run my photography business, and (somewhat) have a life outside of that. I will, of course, continue to create lots and lots of personal projects! But I won't set weekly deadlines for myself.
If you'd like to stay up-to-date with my work, here are a few places you can find me:
Facebook
Flickr
Model Mayhem
My brand new website!
For the last time this year: thank you for looking. Here's to wrapping up an amazing year, throwing on a scarf and gloves, and heading face forward into the next adventure. 2011 awaits!
dani
This slideshow requires JavaScript.
Oh, and just for fun, WordPress sent my some stats on my blog over the course of 2010: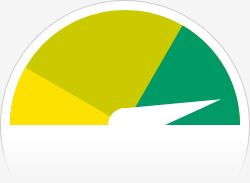 The Blog-Health-o-Meter™ reads "Wow".
The Numbers
A Boeing 747-400 passenger jet can hold 416 passengers. This blog was viewed about 6,600 times in 2010. That's about 16 full 747s.
In 2010, there were 49 new posts, growing the total archive of this blog to 50 posts. There were 117 pictures uploaded, taking up a total of 293mb. That's about 2 pictures per week.
The busiest day of the year was September 6th with 175 views. The most popular post that day was Week 36: From Above.
4 comments on "Week 53: Looking Back on 2010"
hi

Lovely work. It's fun to see what you're up to. I agree with your favorites and Rosie is still my very favorite. Want to come in and do a Noodle Soup on this sometime?

Happy New Year!

Hi Christine, great to hear from you! I think Rosie is my very favorite too. I'd love to do a Noodle Soup sometime, if you think people would be interested. I was never there on days that former students gave Noodle Soup presentations (always had to work those days) so I don't know what to cover exactly.. but I'm sure you could coach me 🙂

Happy new year to you too!
dani

Good thing you have here! I actually love how it is easy on my eyes as well as the details are well written. I am wondering how I could be notified whenever a new post was been made. I have subscribed to your rss feed which really should do the trick! Have a good day!

Hi Loraine, I'm so glad you enjoyed reading my blog. As this was only to be a year-long project (a self-portrait each week of 2010) I don't think I'll be making any more posts to this blog. The project is now complete, and so is the blog. In the future, I'll be posting to my new blog, which is integrated into my new website: http://www.danimouser.com/photography/blog. I hope that answers your question. Stop by sometime and take a look 🙂

Take care,
Dani